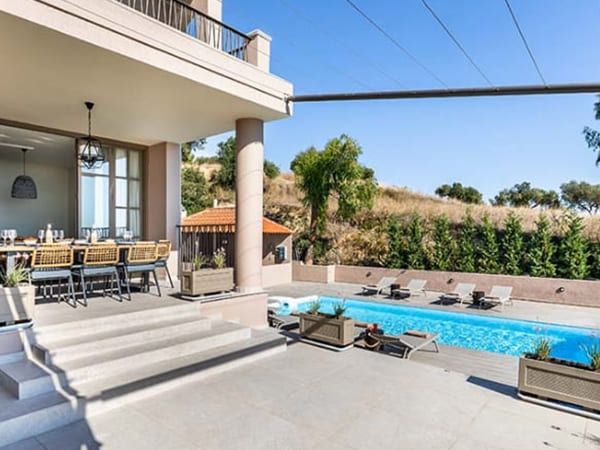 Why is April & May a good time to visit Greece & Cyprus
There are endless reasons why a trip to Greece or Cyprus in the shoulder season is appealling to clients. Fewer tourists – allowing for a more authentic travel experience – to the cooler temperatures that make it a great time to visit for mature clients, families and those who enjoy outdoor activities such as hiking. Wild flowers, foraging and gastronomy experiences, excellent hiking, spa hotels and wellness retreats, city and cultural breaks… the secret is out."
The other interesting fact is that the locals are refreshed from the restful winter months and have prepared their properties, bars and tavernas, so it is the freshest you will experience with both the locals and the facilities.
Visiting in spring also gives the opportunity to experience the highlights of the Greek calendar – Orthodox Easter (in April this year and in 2023) with the chance to experience the richness of the county's culture.
STROLL ON
The mountainous landscape of the Greek mainland is dotted with certified hiking routes, which are best enjoyed in spring and autumn. The 47-mile Menalon Trail, which is split into sections of varying difficulty and is found in the hiking-rich Peloponnese region; or the seven-hour Vikos Gorge hike in Epirus, which takes in bays, cliffs, caves, quaint villages and a monastery.
If the preference is a Greek island experience for walks then there is Crete, where temperatures reach 20C in April. Pure Crete's Guided Country Walking within Western Crete trip takes place in both spring (3-10 May) and autumn (4-11 October). This spring tour is particularly popular for the flora – Crete has 150 endemic species of wildflowers and orchids – as well as the dramatic backdrop of snow on the White Mountains.
There is also 10-day guided Crete in Bloom tour which takes place each year in either April or May, this brings the island's many anemones, scillas, crocuses and orchids, with plenty of opportunities for birdwatching and nature photography along the way.
For activity and adventure lovers hoping to visit the Cyclades Islands without the crowds should consider a sailing trip – travellers can get to coves and beaches that the crowds never visit and, with a local skipper onboard, visit local treasures too, including family restaurants or bars. It's a far cry from busy Santorini."
There are also three hiking trips to Greece taking in the north, Crete and Corfu. Corfu Trail Hiking Highlights trips have departures from 3 April 2022.
ISLAND LIFE
Kefalonia is another good option for the shoulder season holidays. There are number of new villas on the island, including Villa Blue in Ithaka  which sleeps two and has its own pool and hot tub; and the modern Theofilo's House which sleeps 10, has its own spa and looks out across the Ionian Sea.
The Sporades islands of Skiathos and lesser-visited Alonissos are strong options for spring travel. The weather being cooler, walks and hikes are much more enjoyable throughout the day, rather than being restricted to first or last thing. Diving and snorkelling are also better experiences in shoulder season, as there is more sea life to spot when the water is less crowded. Plus all the flowers and herbs are out in abundance.
For the more opulant traveller there is the five-star hotel Banyan Tree Angsana in Corfu, which boasts an outdoor infinity pool, extensive spa, a private beach and fitness studio, plus four restaurants and seven bars.
CROWD-FREE CULTURE
City breakers will have a more relaxing experience if they visit Athens out of peak season too. The sprawling capital can be overwhelmingly stifling during summer but makes for a special shoulder-season city break, with world-renowned ancient landmarks and cuisine to die for."
Sunvil offers fly-drives on the mainland that can combine Athens with the mountain town of Metsovo and the stone villages of Zagoria. More stone villages and picturesque beaches can be discovered in Pelion, a mountainous peninsula sitting in central Greece that's famed in Greek mythology for being home of the centaurs. Pelion is not geared to mass tourism, it's very traditional and the scenery is magical. Ionian & Aegean Island Holidays has a range of properties in the region, including 12-room family-run pension Pounda Paou. The hotel has a great swimming pool and an outdoor whirlpool, and there's a 100-year-old steam train operating at weekends in shoulder season, for a great day out on the mountain.
The resort town of Parga in north-west Greece is another lesser-known mainland option. The five-star Parga Beach Resort welcomes both couples and families and has direct access to the Blue Flag Valtos Beach.