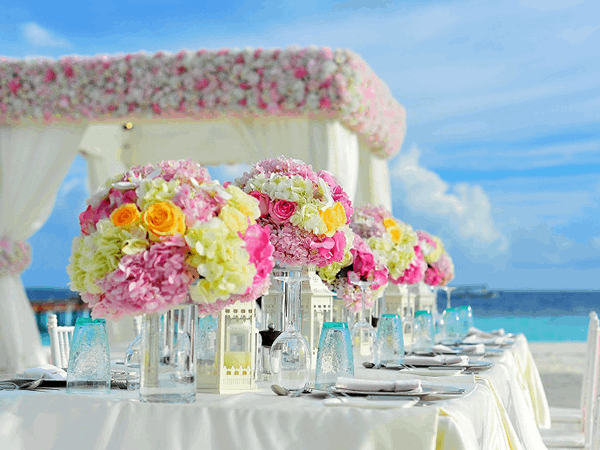 I Do
Why get married abroad?
There are many reasons a bride and groom opt for the sun when it comes to their wedding. Mainly, they want to take the stress away.
Having your wedding abroad means that all the planning is done for you. There is usually a resort wedding planner who can organise everything from the flowers to the reception (if you chose to have one), so you can just relax and wait for the sun to come a'calling.
On the other hand, it can be nerve-wracking to put it in the hands of someone else but rest assured, these are professionals who do it every single day.
Choosing the right destination
This is where you really need help. The best destination will be determined by a few factors;
Are you inviting guests, and will there be children?
What countries allow you to get married?
Do you need visas?
Do you want a reception?
Do you want to stay in the same hotel as your guests?
Do you want a beach wedding or more traditional?
Of course, the obvious one to think about is where feels right for you? It should be somewhere you can picture yourself walking down the aisle and saying 'I do' to the one you love.
How long do you need to be in the resort?
All destinations will have rules when it comes to marriages. One of those rules will be that you need to be in the resort for a certain amount of time before the ceremony. Some will state 3 days; others will state 7. Make sure your agent advises you of this as you will need to ensure that the length of your holiday is suitable.
Paperwork
There will be paperwork to get completed before you go. Normally, this will need to be received by your travel agent around 12-16 weeks before departure. You will need a marriage licence, and any visa documents completed. Your travel agent will provide you with an information pack and guide you through the process.
The dress
Just because you are getting married abroad, doesn't mean you have to compromise the dress. What you do need to check is airline restrictions. Some will allow you to carry on the dress and not include it in the luggage allowance, others may charge. Check with your travel agent prior to purchasing your dream gown. Consider the following;
If you are choosing a hot destination, make sure your dress is suitable. The traditional heavy layered dress that would be beautiful in the timid UK temperatures will be overbearing in high heat. A lighter version would be a much better choice.
Have it packed professionally. There may not be steaming facilities at the hotel so to ensure it arrives in perfect condition, ask someone who knows what they're doing.
Hand it to the cabin crew. They will normally store it in a safe place for you during the flight. Some airlines have specific cabins just for wedding attire.
Booking your guests
The most stressful part of getting married abroad could be making sure your guests get booked on. My advice? Book your immediate party and then send the details in the invitation. My recommendations would be to do one of the following;
Send your reservation number with the invite so your guests can call the agent and add themselves to the booking. (Make sure there is a note in the booking giving permission for guests to do this)
Include details in the invite such as date, time and hotel. The travel agents' details and a possible list of alternatives and let them fend for themselves. They can make individual bookings, so you don't have to worry.
Trying to include everyone in your booking could result in you chasing details and money and that's stress you simply don't need.
This is the biggest holiday you will ever book and it's important to get it right. Make sure you find the right agent for you (aka me) and they will make the process as easy and stress-free as possible.
Rob
Here at Dragonfly Traveller in Northampton, we are experts in the field and will ensure your touring holiday gets off to a flying start. Contact us on 01604 661100 or by using our contact form, to plan your next adventure.