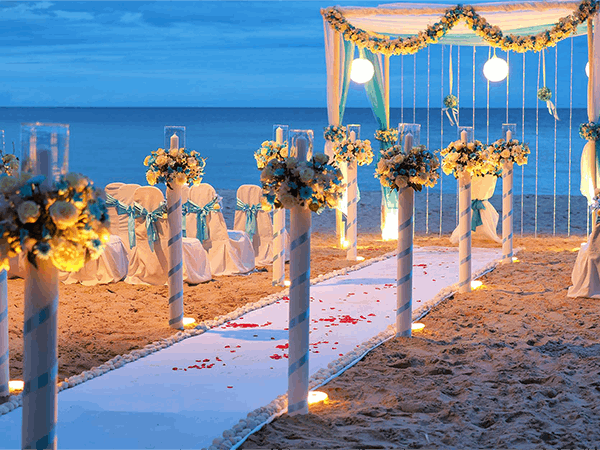 Have you thought about booking your wedding abroad?
Getting married abroad is one of the biggest decisions that any couple can make, but luckily, if you live in Northamptonshire, you happen to have one of the best bespoke, luxury travel agents close by. We have years of experience in planning beautiful weddings abroad, and we are only too happy to share our experience with you to make your special day exceptional.
Planning a wedding abroad (without our wealth of knowledge) can be stressful, and it can raise a number of worrying questions. For example:
Who do you invite?
Who will be prepared to travel abroad to the wedding?
Where is the best place to start with the whole organisation of it all?
What are the different rules and regulations that individual countries have about getting married in their country?
Arranging this directly can be a daunting task for any bride or groom to be, but that's where we come in.
Booking a dream beach wedding
One of the most popular locations for beach weddings abroad is Greece and Cyprus. It is popular because the countries make it easy, it is not too far to travel, and it is one of the best places for that affordable romantic wedding on the beach.
For other beach weddings, you of course have the Caribbean which will cost more, but all-inclusive resorts like Sandals, which have various resorts across the Caribbean, can be quite affordable and are specialists in making wedding day dreams come true.
Get married in Las Vegas!
It will come as no surprise probably that weddings in Las Vegas are one of the most popular. Have you ever thought of getting married in the drive-thru Chapel in Las Vegas, and then getting in a helicopter to travel for your wedding reception in the Grand Canyon?
Get married in Italy?
When you think of a slightly more classical approach to a wedding abroad, one of the places that comes to mind is Italy. Why not choose to get married in Pisa, with your reception in the grounds of a fabulous villa and have all of your guests staying over for the week – a fabulous family occasion and the wedding will go on for days!
There are numerous romantic locations in Italy with the rolling vineyards in Tuscany to the stunning coast line of the Amalfi Coast and Sorrento. How about having your wedding reception on the hillsides of Sorrento with an orchestra playing with the backdrop of an amazing sea view? We can make that happen.
Dragonfly Traveller's top tips for booking a wedding abroad
Our tip for an amazing wedding abroad is to stay focused on the occasion and the romance of the day and leave everything else to us. For those local to us in Northamptonshire, we like to meet with our bride-and-groom-to-be, so we get to know how to make their wedding day the very best for them.
Some of the challenges of making the wedding day abroad a great success is making sure you get all your guests get there – this can be quite a hassle – which is why you just leave all that to us too?
We can:
Book accommodation and travel for you and your guests
Organising your guests so they know exactly where to be and when
Get the right flowers there on the day – as well as every other little detail
Sort all the legal aspects
Arrange the photographer
We understand that it's the little details that make the biggest difference to your special day. We are experts in travel, luxury and have years of experience in combining the two to create the perfect wedding day. You can rely on us to take the pressure off what is often a stressful planning process, all you need to do is turn up, and maybe don't forget the rings!