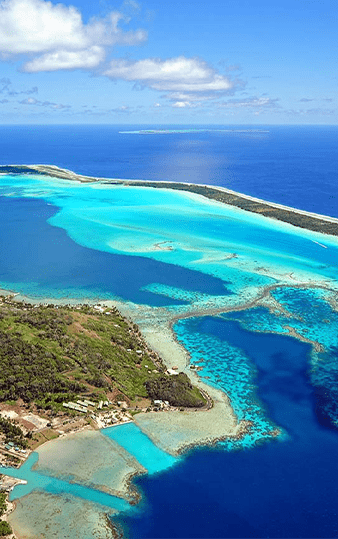 Destinations
Bora Bora
For the perfect island escape, look no further than Bora Bora. Known for being the ultimate relaxing retreat, it's perfect for couples, especially honeymooners, looking for the most romantic trip of a lifetime. Saying that, it's also a popular destination for families too. You'll fall in love with this beautiful island before you even land, the view from the plane window is simply breathtaking, especially when Mount Otemanu comes into view.
With plenty of stunning beaches, Bora Bora offers an incredible opportunities for relaxation. Simply lie back, cocktail in hand, looking out onto the crystal clear waters of the South Pacific, letting all your worries slip away. The beaches aren't just for relaxation though, take to the water and enjoy a wide range of watersports including jet skiing and parasailing, not to mention the excellent snorkelling opportunities too. With almost guaranteed great weather, an afternoon on the beaches of Bora Bora couldn't be more perfect, and that's before we mention the hospitality.
For an excursion that's a little different, why not take a trip to the island's center, Mount Otemanu, a 727 meter dormant volcano. We can arrange for you to take a tour, most definitely worth doing if just for the views from the top! If you're not wanting to summit the mountain yourself, why not opt for a helicopter tour instead? This can be an especially romantic trip to the skies, as you'll no doubt see the heart-shaped island of Tupai in the distance too. Next we can head to the famous translucent lagoon. Most boat tours include fresh food and champagne, making it more than just your average day trip.
After a long day of relaxing, where should you rest your head for the night? Bora Bora has become well known for its luxury floating villas, and we can ensure you stay in one with a glass floor. This provides a beautiful window to the underwater world of the lagoon. Order room service or a massage and just unwind.
With so much on offer, this tiny island makes the perfect destination for honeymooners and families alike.
We can tailor-make the most wonderful holiday for you and your loved ones, simply get in touch for more information.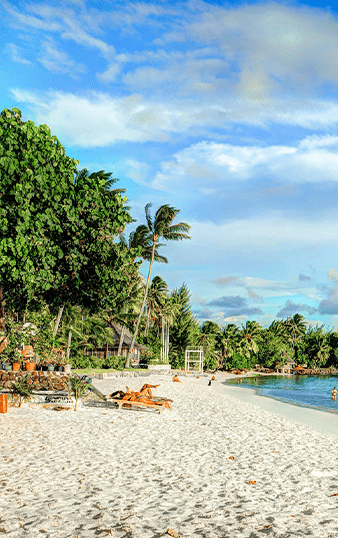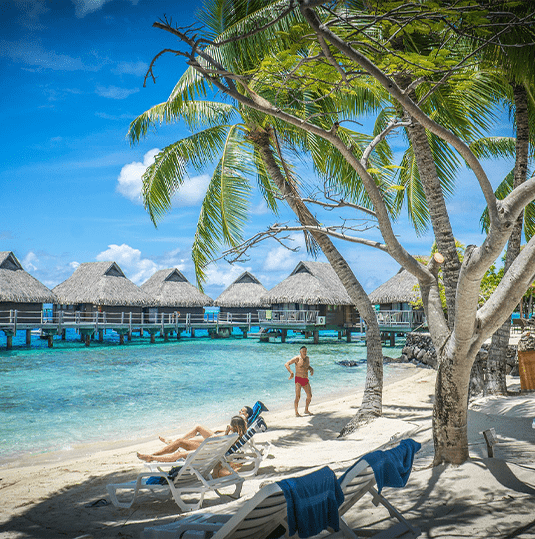 At a Glance
Bora Bora
Immunisations needed: Confirm primary courses and boosters are up to date.
Advised: Hepatitis A, Hepatitis B and Tetanus.
Languages: French, Tahitian and English
Time difference: GMT – 10 hours
Flight duration: 20 hours
Popular activities: Scuba Diving, Relaxing and Romantic excursions
When to visit: November – April
Accommodation
Bora Bora
Stay in one of Bora Bora's luxury floating villas with a glass floor that gives you the perfect insight into the underwater world.