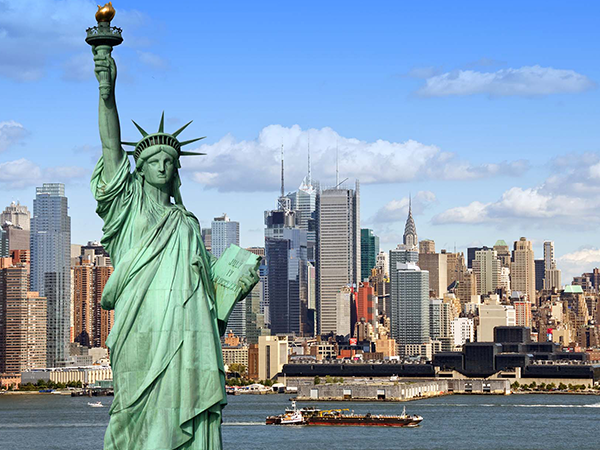 A few of our favourite holiday destinations for 2018
There are so many places we still have yet to visit in the world but I guess we all have our favourites. Ours come down to great weather, fabulous food and a light touch of exploration – not heavy on the physical exertion.
Our favourite short trips
New York, New York!
Spending 3 or 4 nights in New York, we find fascinating – and never tire of the throngs and bustle of this great city. However, it is a short trip for us. Fantastic restaurants – Balthazar for a little classic French dining or the Spotted Pig for the unusual Gastro Pub. There are some great Steak Restaurants and chocolatiers galore. The vibe, activity and buzz of the streets and so many sites to see. A great long weekend, but we always need to escape after 4 days!
We adore a short escape to Italy
In contrast, Tuscany. Take a self-drive tour and really get to see some of the most beautiful landscapes of Italy. Food and wine are just naturally fabulous and you can take in the capital, Florence, to get your injection of some fascinating architecture whilst tucking into the world's best gelato – try Stracciatella!!
Being a little Italian biased, our other short trip favourite is Venice. Try and go during the Venice Festival, just the two or three weeks prior to Easter and see the great theatrical shows in St Marks Square with everyone walking the famous canal streets dressed in period costume and iconic masks. Enter the spirit and join in – we did, so much fun.
Our favourite long haul destinations
Why Asia is worth a visit…
So, what do we mean by light touch of exploration? We are not that brave so we are talking private tours here. Fly into Bangkok, take in a couple of trips, up to Chiang Mai for a cookery class, not to forget the River Kwai rail trip – then down to Elephant Hills for some luxury (has to be) tent experience at this most amazing Elephant sanctuary. Min stay here is 3 nights – believe us, you will not want to leave. If you have any temptation at all for finding out about different cultures, life styles, foods and wonderful scenery, you must go to Vietnam. After a torrid history, this country is a prime target to see an amazing country yet unspoilt by mass tourism, absorb the culture, food and some fabulous country side. Take in a Ha Long cruise for a 2 day 1 night trip during your tour to see the incredible landscape and caves – see our blog on the website!
South Africa is also one of our big favourites.
Head for Cape Town, stay at Cape Grace and have the views over the harbour from one window and Table Mountain out of the other. Take a car and explore the Garden Route for a great drive, stay a night or two whilst you do this. You also have the Winelands, taste the wines of the Stellenbosch and stay a night or two at The Last Word, Franschhoek. Best ways to explore the Winelands is via tram which will take you around all the wineries for free, so no worries on the drinking and driving. Can you leave South Africa without a Safari, probably not!! So go for Kapama Southern Camp, in the Kruger Park to take a 3 or 4 day Safari and do Safari in style – great for seeing the big five but in such a way that still gets you back in time for afternoon tea or canapes and drinks before diner.
So finally let's go to the beach…
Everyone talks about the Maldives and, I'm sorry, so am I. When you get on board that sea plane for your transfer and land at the jetty of your chosen island, you really feel like you have escaped the real world. Hosted by your own butler, take in 5 nights in a Water Bungalow and then do another 5 nights in a Beach Villa – you will think you have had two holidays in one, even though you are still on the same island. Food is unbelievably good with loads of variety for everyone. Clear waters to snorkel or dive in, peace and quiet to catch up on that novel you have been meaning to read. Take in a Spa treatment to relax those tired bones – you are on an island in the middle of the Indian Ocean, Wow!
Then there is the Caribbean which will always be a favourite as we lived there for 3 years on St Maarten, in The Dutch West Indies. As much as St Maarten was a home, Barbados has that little more to it for a great holiday. Avoid the areas around Bridgetown, go up the coast further as the resorts are better and you can dine at Daphne's restaurant or, for a special night out, go to the Cliff Restaurant. Hire out a jeep and explore the island and the real Barbadian way of life, visit the potteries and find that piece of memorabilia that they will be happy to package up and send back to the UK for you.
Give us a call, we have many more stories for incredible places to visit.