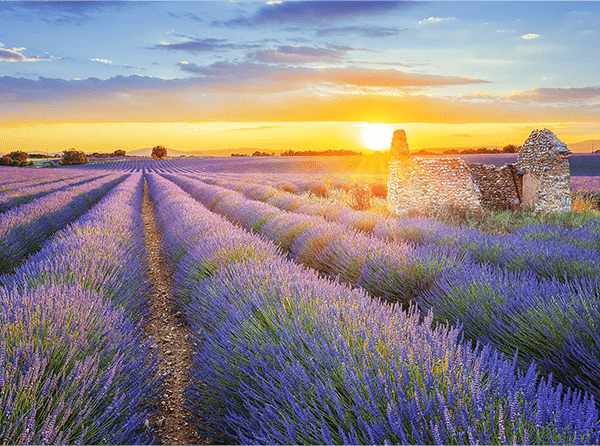 12 Day Itinerary to tour Provence
This 12-day tour has been designed to show you the many facets of Provence based on stays at just four hotels so you're not ceaselessly packing and unpacking. On the way you will bump into some greatest hits, but there are plenty of opportunities to wander off into the wilds. I trust your soul and senses will be stirred – maybe even scrambled in the Verdon Gorges – and that, finally, you might agree with me that, though Europe has many splendours, none is more splendid than Provence.
Itinerary
Day 1
Take Eurostar from St Pancras direct to Avignon in just under six hours and hire a car or motor to Le Thor.
Base yourself for the first three nights at La Bastide Rose just a couple of miles outside Thor. A former water-mill surrounded by greenery, it's now a cracking little Provençal hotel – the sort where you might settle to write your memoirs – overseen by Poppy Salinger, French widow of JFK's former press spokesman. Son Emmanuel cooks brilliantly.
Day 2
Out early to Les Baux – an hour away – to beat the crowds. This eagle's nest of a place appears to grow organically from the craggy chaos of the Alpilles. Steep stone streets concentrate fat people into pairs, buildings are semi-troglodyte and the view from the castle takes in all the Provençal clichés – olives, vines, scrub, rock – in one eyeful. Continue to the Pont du Gard: the greatest of the Roman aqueducts as it soars above the Gardon valley.
Spend the afternoon in Avignon. The great Gothic Papal Palace rises still with monumental authority. Don't bother with the interior; it's empty. Go instead to the Petit Palais across the square which has an outstanding assembly of Italian art. Once you've seen Botticelli's Virgin and Child, you'll wonder why anyone else ever bothered. Later walk up to the Rocher-des-Doms, Avignon's foundation stone. The views over the Rhône and the world's most famous fifth-of-a-bridge are arresting. Nothing is gained by paying to walk upon the bridge. Instead, take a terrace table on the Place-de-l'Horloge and watch the city spectacle flow past.
Day 3
Tootle five minutes east to Isle-sur-la-Sorgue. If you're an antiques fan, you'll be euphoric: the place has 300 outlets. Move on to Gordes, the classic Luberon hill village, brightened by the intangible sheen of outside money. Magnificent nevertheless as it unravels down its slope. Now roll around the region: Ménerbes, Bonnieux, Lacoste and Rousillon where ochre-mining has sculpted canyons of red and gold. These are all chattering-class villages. Celebrities too, but discreet ones.
Day 4
Time to move east via Aix-en-Provence. You need to see Cézanne's studio (preserved as if the old boy had just nipped out for tobacco), Cours Mirabeau (the stateliest avenue in southern France) and Nicolas Froment's Burning Bush triptych in the St Sauveur cathedral.
Then drive on, around the Mont Sainte Victoire, the slab of mountain painted into submission by Cézanne, to St Maximin. The basilica here holds the skull of Mary Magdalene. In Correns is the Château Miraval where Brad and Angelina used to hole up in happier times. They were married there in 2014. Since then, apparently, the house and 500-acre estate have been sold for €500-million – though the chateau's (especially) rosé wine remains remarkable. And just outside Lorgues is your base for the next three nights: the Château de Berne. It's not so much a wine estate as a wine realm, with a five-star auberge, acclaimed eating and more than a thousand acres to roam.
Day 5
If it's Tuesday or Friday, start in Lorgues market, where all Provence's edible abundance is gathered. Then whirl around the redoubtable upland villages of the Haut-Var: Villecroze with its cave-studded cliffs; hill-top Tourtour for coffee on the Place des Ormeaux, and Châteaudouble where the restaurant La Tour (latour-chateaudouble.eresto.net) provides a fair lunch and a gorge view. Afterwards track down to Thoronet Abbey, the finest of Provence's three austere Cistercian houses and evidence that not all medieval clerics were debauched. Some embraced the sublime.
Day 6
South, over the wild, wooded Maures hills, towards the Provençal seaside, by way of Collobrières, capital of French chestnuts. Below Bormes-les-Mimosas – a glorious village tumbling down towards the coast in a cacophony of old stone, stairways and overflowing horticulture – little-known beaches abound.
Try white sand Plage du Pellegrin before pottering next door to Château de Léoube, which makes some of Provence's finest wines. As does the St André-de-Figuière domain at nearby La Londe-les-Maures. These are the ones to bring home.
Beyond here, the Maures corniche road renders ridiculous claims that the French Mediterranean is all concrete. It's a grand weave back to base via Cavalaire, Grimaud and La Garde-Freinet.
Day 7
Screw on your head for heights for the Verdon Gorges, Europe's Grand Canyon: 15 miles long, 2,000 feet straight down, nature on a supernatural scale. To hike, bike, climb, kayak or raft the gorges, call into the Castellane tourist office (castellane-verdontourisme.com). Or you may account a drive along the Corniche Sublime quite hair-raising enough.
Drive on, via Riez, to the Valensole plateau where, in July, lavender and wheat in alternating waves of blue and gold create a spectacle of mesmerising purity.
Just outside Digne, the Hotel Villa Gaia is your base for the next two nights. A 19th-century villa amid fine gardens which the owners have kept as it should be, it's like staying with distant cousins from the Edwardian era, but with sharper plumbing and better food.
Day 8
Despite a grandiose setting (mountains circling, river round the edge) Digne lacks pretention. Its streets fill with locals and playing kids rather than holidaying media types. Up by the cathedral, the old centre has the patina of working Provençal life and the best black puddings in the south.
Depending on your interests, you might take in the archeo-crypt under the cathedral. Or the house to which France's foremost female explorer Alexandra David Neel retired, now a museum of Himalayan matters. Or the Musée-Promenade, a geology-meets-art introduction to the grandeur of the southern Alps. Its garden has 139 varieties of butterfly.
Day 9
Across the hard-core Provençal uplands, via Forcalquier (stop for the region's best pastis chez Henri Bardouin) and Limans (best cheese at La Pourcine farm). You're edging the great Lure mountain as you make for Banon. On to Sault, where July lavender makes the valley sing.
You might drive up the Mont Ventoux which dominates this stretch of Provence like an unforgiving elder. Or you might not, skirting instead to the north, into the Toulourenc valley. That would be my choice. It's like motoring into a better life… of gorges, smudges of lavender, farmland and farmsteads, with a little river adding the running commentary. And you'll be alone. No-one but you and I has ever heard of this idyll.
South to Mazan, a village the colour of old piano keys. Rising above it, the Château-de-Mazan offers a terrific welcome, idiosyncratic décor (African through London clubland), gardens, a pool, good food and a sense of privilege.
Day 10
A gentle whirl round some of the loveliest wine villages in the southern Cotes-du-Rhône. The Domaine de Mourchon in Séguret is where Briton Walter McKinlay and his team produce head-turning vintages. Gigondas is the place to sit on a terrace with a loved one and a glass of rosé. Down in Châteauneuf-du-Pape, Font-de-Michelle is the domain to aim for.
Day 11
Just east of Mazan is the village of Villes-sur-Auzon, whose wine co-operative lays on the most innovative viti-visits around. You might tour vineyards by electric bicycle, while tastings, nibbles and picnic lunches are organised as you proceed. I've visited dozens of wine co-operatives and there isn't one to which I'd more speedily return. The wines are excellent, too – preparing you for an afternoon idling beside the Château-de-Mazan's pool.
Day 12
It's an hour's drive back to Avignon for the Eurostar to London.