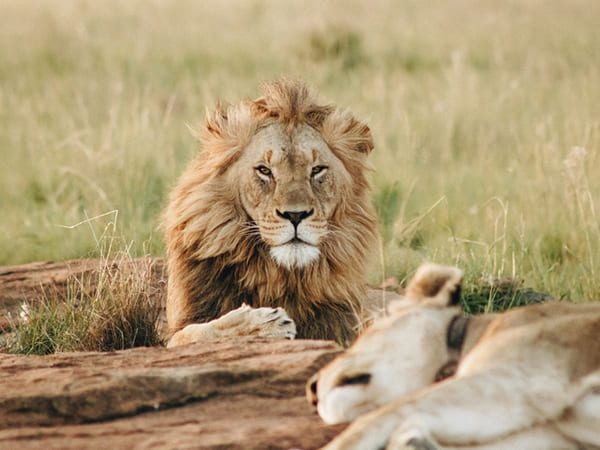 Venture into The Wild – Our Top 5 African Safari Destinations
There's no better way to embrace your wild side than by travelling into the wilderness on an adventure of a lifetime! No matter how many documentaries you have seen on the television, nothing compares to being in the heart of where it all takes place.
Whether you're a safari first timer or fell under the spell many years ago, there are many fascinating destinations in Africa to be discovered! But where should you begin? We've listed our top five destinations for a truly incredible African safari adventure:
1. Maasai Mara National Reserve, Kenya
The Maasai Mara National Reserve in Kenya is one of the most popular game reserves in Africa and is renowned for its exceptional wildlife. If you're looking to see big cats wandering across the rolling grasslands and scattered acacia woodland, then this is the place to be! The prime time to visit is from July to October, which ties in well with the UK school holidays. It is also the best time to see the Great Wildebeest Migration and experience the ground vibrating beneath your feet.
2. Kruger National Park, South Africa
Kruger National Park is one of the oldest and well-maintained game reserves in Africa. This remarkable destination is situated in north-eastern South Africa and is famed for one of the best places to witness the 'Big Five'! Many of the surrounding private reserves have taken down their fences, allowing wildlife to stroll freely between reserves. There is also a great range of accommodation to suit all tastes and budgets, from luxurious lodges to trendy tented camps.
3. Volcanoes National Park, Rwanda
Are you ready to trek through Rwanda's dense jungles? Here you can witness jaw-dropping scenery, exotic flora and a whole host of fascinating wildlife such as golden monkeys, black-fronted duikers, bushbucks and of course the legendary Mountain Gorillas. If the answer is yes, then the best time to go gorilla trekking in Rwanda is during the drier months from June to September. This thrilling destination is just a short two-hour drive from Rwanda's capital of Kigali, a great place to begin or end any Rwanda adventure.
4. Lake Manyara National Park, Tanzania
If you're looking for a taste of Tanzania, then Lake Manyara National Park is one of Tanzania's best kept secrets! Although this is one of Tanzania's smaller parks, Manyara boasts diverse terrain and is one of the best areas to spot rhinos, baboons, tree-climbing lions and herds of elephant. This beautiful destination is also a bird-watchers haven, home to more than 400 species of birds, including colourful flamingos, pink-backed pelicans and African hawk-eagles. For an unrivalled view of this picturesque spot, why not book a canoe trip which will take you out onto the shallow waters of this beautiful soda lake?
5. Etosha National Park, Namibia
For viewing Africa's greatest wildlife, Etosha National Park in Namibia really has it all! With over 20,000 sq km of parkland, featuring floodlit watering holes and 'the great white area', your guided tours will simply park up and wait for the wildlife to come to you. In addition to, rhinos, elephants and lions, there is a population of the very rare black rhinos, exclusive to the area. Seeing these rare species in close proximity is a photographers dream and an experience we can assure you will never forget!
Twin Centre Safari Options
A twin centre Safari holiday could be the ideal answer for a great getaway. Your average safari is likely to extend over 3-4 days, therefore combing this with a beach or city break would be the perfect end to your African experience! Wherever you choose to stay in Africa, you are only a relatively short journey away from beautiful relaxing sandy beaches and fascinating cities to explore.