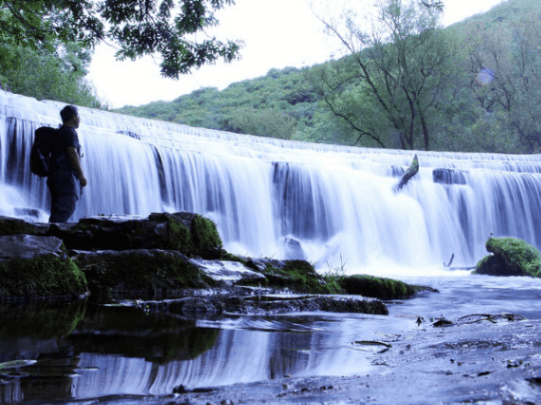 The Peak District, the ultimate 'Staycation'
Perfectly situated just north of the centre of the little country we call home is the Peak District. Along with hundreds campsites and B&Bs are a number quaint English stone holiday cottages, and we believe there's nothing better than settling into a chocolate box cottage for a bit of R&R.
There's no mistaking the peak district when you enter it. Rolling hills meet sheep filled fields, with valleys, fresh trickling streams and beautiful mountains. The motorways disappear into winding lanes, even the bigger towns of Buxton and Bakewell don't lose that village charm.
If you're looking for a dog friendly staycation, the Peak District is calling for you and your hound! Almost every pub and restaurant has a sign outside saying 'dogs are welcome', and many have little jars of dog biscuits on the bar to treat your pooch. In Castleton, many of the jewellery shops are also dog friendly, meaning your furry friend can help you shop for earrings made with the local (and beautiful) Blue John stone. You'll also find many of the caverns are dog friendly too, allowing you to explore the caves with an expert guide, with your dog in tow too.
When it comes for things to do, pack your hiking boots! Whether you want to leisurely ramble through the countryside or embark on a 10km circuit, you'll need sturdy footwear. From the 'Heights of Abraham' to the 'Peak cavern', there's so much on offer here, rain or shine! We can highly recommend Padley gorge as a beautiful walk, or the Monsal trail and Limestone way are just as stunning. For truly breathtaking views, walk from Edale to Castleton, enjoying the views from the Great Ridge along the way.
The pubs in the Peak District pride themselves in local produce and local ale, meaning the food isn't your typical pub grub. It's clear that the community spirit is very much alive in the Peaks, with the pub at the centre of every village. Don't worry about being an outsider though, we can assure you you'll be welcomed with open arms, as the people here are so friendly, ready to give advice on where to explore tomorrow.
When it comes to cooking up a dream in your own cottage, why not stop at one of the many farm shops or farmers markets that allows you to pick and choose some of the freshest local meat and vegetables. For dessert, ensure you swing by the quaint town of Bakewell, and pick yourself up a Bakewell pudding. These are nothing like the shop bought variety you'd find in your local supermarket, and every bakery in the town has their own special recipe, so it would be rude not to try a few!
As the sun starts to set, it's time to light the log burner and settle in for the night, maybe even with a glass of red wine. Put your feet up after a long day on the hill and snuggle down with a good book, or a good film, with your dog at your feet.
For more information on a beautiful trip to the Peak District, contact a member of our team today.