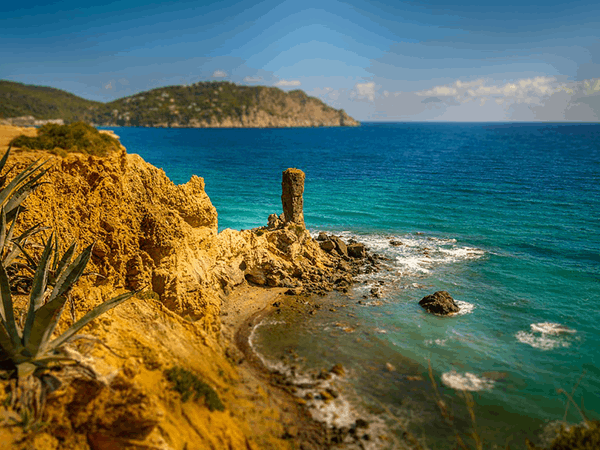 Let your hair down in Ibiza
Known as one of the top party destinations in Europe, Ibiza is an exciting combination of outstanding music, wonderful beaches, stunning hotels and beautiful culture. Old meets new on this island, with the Old Town of Ibiza providing the ultimate contrast to the clubs that hardly sleep.
During the day you have plenty of options, from exploring the Old Town to soaking up the sun. In the Old Town you'll find boutique shops, cobbled streets and wonderful culture. Enjoy museums, beautiful architecture and exploring at a leisurely pace, with an ice cream in you hand of course! Restaurants line the harbour, so pull up a seat, and share a jug of sangria and a deliciously fragrant paella, filled with the freshest of seafood. Once the day is done you can enjoy the company of your loved ones and watch the sun set behind moored yachts, creating a postcard perfect view.
For something even more relaxing, why not spend a day by the pool? With so many excellent hotels to choose from, you'll easily be spoilt for choice. A hotel with a sea view makes all the difference though, as you can relax away from crowds on your own sun lounger by the pool, cocktail in hand with the sun on your face. This is the perfect way to spend the day if you've had a late night, but equally as rewarding if your sole purpose whilst in Ibiza is to relax and unwind.
If the clubs of Ibiza are calling to you, then it's best to check the time tables and book your tickets early to get the best deals. In the party district you'll be met with holiday reps trying to sell you a variety of different tickets, but be careful, do your research and plan your nights if possible to avoid paying an unnecessary excess. Top clubs like Pacha, Ibiza Rocks Hotel, Zoo Project and Amnesia all offer memorable nights, with DJs playing from all over the world. During the summer you really will be spoilt for choice, and planning your holiday to coincide with your favourite musician is highly recommended if you don't want to miss out on the party of a lifetime.
Ibiza is the perfect destination for couples looking for a romantic getaway, as well as groups of friends that want to combine an outstanding nightlife with the heritage the Old Town has to offer. Beautiful beaches and blue skies makes Ibiza a wonderful short haul destination, simply contact a member of the team to find out more.