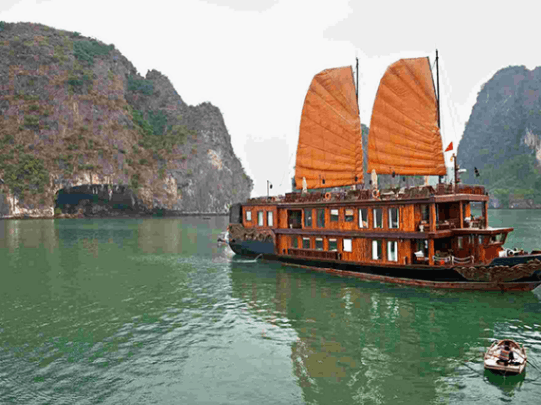 Get the best out of a Ha Long Cruise
When is the best time to take a cruise in Ha Long Bay?
The best times to take a cruise in Ha Long Bay is from September to November and from March to May. July and August are stormy months, so this is not trip for the typical summer holidays.
If you are on Honeymoon, a backpacker, on a budget, a relaxer, an adventurer or with the family, there are different solutions of cruise depending which camp you sit in.
The Perfect Choice for a Honeymoon Cruise
For Honeymooners it has to be luxury. Go for the 2 day 1 night aboard the L'Amour charter junk by IndochinaJunk. Imagine a romantic night with wine, candles and privacy; an en-suite room which has stunning views across the bay and an outside dining area to indulge in the delicious cuisine; your suite decorated with roses and candles makes this a very special occasion. For this cruise you can expect to pay between £400/£300 which is not bad for such a unique experience!
Why is a Ha Long Bay Cruise Great for Backpackers?
For the Backpacker, get ready for adventure and activities galore! Cruising, cliff jumping, kayaking, climbing and back to the beach for a sunset party – and this is just day 1. Cycling, trekking, boat jumping, swimming and dinner and another night of fun is day 2. Day 3 is a little more relaxing to prepare you for your return to normal society. Costs, all in for around £130 for 3 days and 2 nights.
If you are on a budget, there is a 2 day 1 night itinerary for around £120. Explore the caves, go swimming and kayaking with meals and overnight on board gets you a really great experience at a fabulous price. For the Relaxer – let's not rush things. Go for the 3 day 2 night cruise, relaxing swim, view the caves as you relax in a recliner with copious amounts of food and wine to while away your ocean views. For the Adventurers out there go for an alternative 2 day 1 night option where you spend a whole day kayaking, exploring Lan Ha Bay, followed by rock climbing on a private beach with a spot of paddle boarding – all for around £135.