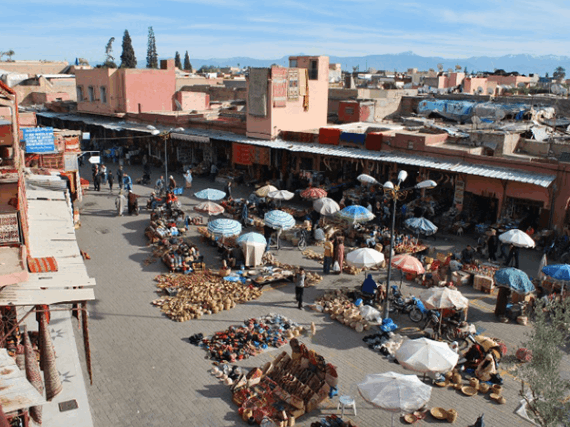 A Day in Marrakech
When searching for a short haul holiday that offers beautiful sunshine & wonderful food it's very tempting to opt for one of Europe's classic locations. You have the choice of the Italian lakes, the Spanish Costa Brava or perhaps the Dordogne in southern France, all of which offer exceptional beauty and a wonderful escape, and it's just on our doorstep. But what about adding the experience of an exciting new culture to mix, have you considered Africa?
When people think of Africa their minds often conjure up images of vaccinations and long, uncomfortable flights, and all this before you even think about an itinerary for when you arrive. The truth is very different, and Africa doesn't need to be like this at all.
What if I told you there was a hidden gem right on the doorstep of Europe, that offered beautiful sunshine, wonderful food and an exciting new culture?
That's what you get when you visit Marrakech in Morocco.
When arriving in Marrakesh the first thing you notice is the colours. The ground is a vibrant yellowish orange, and stalls lining the streets are filled with rugs and carpets of the richest reds and oranges as well as fresh fruit and green vegetables. The sky is the most beautiful bluest of blues and the locals dress in bright reds and purples creating a masterpiece of colour and a vibrant and busy scene. It's dusty, yes, and a little rough around the edges, but you'll be thrown straight in the middle from the moment you touch down. The taxi ride from the airport is an adventure itself, with unspoken rules of the road, if you're nervous close your eyes! But to close your eyes would mean missing the live sheep strapped to car bonnets, the goats on the back of a trailers, and the many many mopeds expertly swerving between the traffic.
Just when your heart can't take any more, you'll arrive at your luxury riad, the only way to stay in Marrakech. Riads are the Moroccan equivalent of your own private villa, your very own little bit of paradise. Enter and you're met with a sense of calm you previously thought was impossible in such a vibrant city, but yet here it is. Stunning tiling across the floors meets with small pools and luscious greenery in an open courtyard. Crispy white sheets are tucked into the bed, with a marble bathroom that certainly looks as though it could wash away all your troubles.
When you're ready it's time to venture out into the city and head to Jemaa-el-Fnaa, the main square in Marrakech. During the day, the square is filled with locals and people hoping to capture your attention with snakes, monkeys and maybe even a chicken or two. Be careful though as even a photograph will cost you money! Spend the afternoon wandering the souks, and you'll find a hub of activity, and an assault on the senses in the most magical way. Carpets are stacked high, almost blocking the sunlight, and you'll find trinkets galore alongside craftsmanship that truly takes your breath away. Prepare to haggle, engage with the locals, they're perhaps a little pushy, but that's all part of the charm, they're proud, and they're eager to show you everything they have to offer!
In the evening the main square transforms into the ultimate dining room. Out of nowhere, food stalls pop up as the sun sets, and tables and chairs fill with locals and tourists alike, side by side, to enjoy delicious cuisine in a relaxed but energetic atmosphere. Later the square fills with musicians and storytellers, so pull up and chair and prepare to join in and be truly welcomed.
The completes your first day, and you can sleep with your head buzzing with the sights and smells of such an exceptionally vibrant city. Turn this day into a dream holiday with loved ones by contacting a member of the Dragonfly Traveller team today.