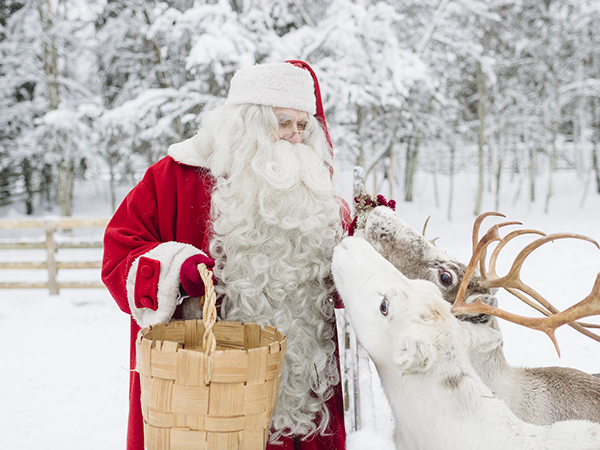 Planning a Family Trip to Lapland
If you're searching for winter wonderland this Christmas, then visiting Lapland with your family has to be top of the tree. This magical destination will turn a child's fairy tale into a reality they will never forget. From snowmobiling and reindeer sleighing to ice fishing and witnessing the iconic northern lights, there are delights for the whole family to enjoy.
We've put together a handy guide of tips and tricks to help you plan your perfect visit:
1. The best age to take your children
One of the first things to consider is the best age to take your children. We believe the best time is between the ages of 5 and 10. This is the perfect age group to enjoy the Santa experience, yet old enough to remember this trip for a lifetime. As this experience is more demanding than a visit to the seaside, due to the low temperatures, any younger children may find this more of an ordeal than a holiday.
2. How long should you go for
For those of you on a budget, the best option could be a day trip to Lapland. These depart from Gatwick at around 7:30am and will return well before midnight. However, this is a long day, especially for those of you with younger children, and you may not feel you get the whole festive experience. A 2 to 3 night trip is ideally a better option, as you get more time to experience the wonders of this incredible place.
3. Which destination to choose
There are a number of destinations in Lapland to choose from, however we want to share with you a couple of our favourites.
Rovaniemi is a popular destination for many. This is the capital of Finnish Lapland and most importantly the hometown of Santa Claus. There is a famous Santa Claus Village here, where you will discover a post office that manages all the letters that children have sent to the North Pole. What's more, the Santa Park holds a number of activities and attractions for the whole family to enjoy.
For those looking for a quieter, less commercial destination then Levi is it. This is the largest ski resort in Lapland and only a short drive from Kittila airport. As your trip is really for the children, why not book a husky and reindeer safari or a snowshoe walk to visit the Northern lights?
4. The cost
As this isn't the cheapest winter break and one that you will probably ever do once, we recommend 2 to 3 nights as a minimum stay unless you're willing to push the boat out. We can provide the best package for you and your family, built around the activities you enjoy along with accommodation, meals, flights and transfers. We will even provide some thermal dress wear for the extent of your trip. A budget of around £3,000 will comfortably cover the costs of a family of four for a 3-night stay.
5. When should I book my trip to Lapland?
This really depends on how flexible you are. There will always be last minute deals, where you can make great savings, however you may be limited to specific airports and travel dates. Therefore, if you want to go at a specific time of year it is better to book early, where you will benefit from early booking discount. The peak period to travel to Lapland is from the end of November to the second week of December.
If you would like professional help and advice on planning your trip to Lapland, call our Dragonfly Traveller team on 01604 661100 or send us an email at enquiries@dragonflytraveller.co.uk. We deal with hundreds of operators and our service is completely free! So, if you're searching for a trusted, tailor-made trip to Lapland that has been planned meticulously just for you, then get in touch with us today.