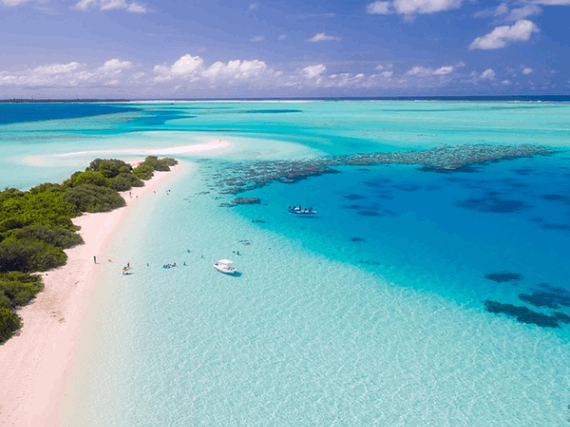 Plan Your Winter Sun Holiday With Our Top 5 Destinations
With dark nights, cold winds and rainy days upon us, you may be looking to escape the wintry weather and head for sun, sea and sand on a winter sun holiday! There are some incredible destinations to choose from to get your sunshine fix, but we've listed our top 5 for guaranteed high temperatures and extraordinary beaches:
1. The Maldives
The Maldives is one of our favourite islands for a relaxing sunshine break, home to flawless white beaches, shimmering turquoise waters and pristine coral reefs. This luxury location takes around 10 hours to fly to and has up to 135 resorts to choose from, all offering something slightly different for every occasion and budget. It's the perfect place to unwind, making it ideal for couples, anniversaries and honeymoons. However, many resorts cater extremely well for families too, some even better than many places worldwide! We would recommend going all-inclusive, especially if you are on a budget as buying items on the island can be costly.
2. Dubai
Dubai is a popular destination for many as it caters exceptionally well for families, couples and friends. The journey takes roughly 7 hours, which shouldn't be too stressful for those with children. November is our favourite month to travel to this vibrant city, as it's hot but less humid.
For your visit, why not stay at the infamous 'Atlantis The Palm'? This is a unique place, which will give you access to all the spectacular water and fun parks. There are also plenty of amazing attractions to discover, including the Burj Khalifa and Safa Park. For shopping, Dubai Mall is about as good as you'll ever get, with over 1,000 retail outlets and the world-famous aquarium. However, if you want to get away from all the bling, there is the 'Old Souk', which is a warrant of crafts, fabrics, pots and souvenirs. There are also two new creative districts, the Dubai Design District and Al Quoz. These have gained the attention of the international art scene.
3. The Bahamas
For a spectacular tropical escape, Harbour Island is our choice! It has long pink sandy beaches, stretching along the eastern shore and numerous beaches with marinas on the western side of the island. If you enjoy diving, there are some great outlying coral reefs like the Devil's Backbone, which is home to marine life such as stingrays and turtles. Harbour Island is not one of the easiest places to get to, so, if you are planning a trip here leave yourself plenty of time – this is not a short break destination.
4. Hawaii.
Although best known for its surfing, there is a lot more to Hawaii then you would imagine. Hawaii makes a popular destination for year round sun, with some of the very best beaches in the world.
An island hop multi centre holiday is a big favourite in Hawaii. Big Island is most famous for its volcanoes and lava flows. Oahu, for its bustling beaches, nightlife, shopping and surfing. And finally, Maui for its scenic beauty, peacefulness, tours and walking excursions. As you can see, an island hop will give you the best mixture of all the experiences that Hawaii has to offer.
Remember though, the flights are 18 hours long, so short breaks are not recommended if you want to get the most out of your visit.
5. Miami
Although this may not seem the obvious choice, Miami is a great place to combine a city break with a beach holiday. Combining a cosmopolitan city and a laid-back beach lifestyle in beautiful surroundings, sun-kissed Miami has something for everyone.
When in Miami, the top destination is South beach. A trendy playground of dazzling restored Art Deco hotels, stylish restaurants and over the top nightclubs along the stretch of pristine beaches. For the culturally minded, there is a thriving art gallery scene, along with street art and a dynamic local foodie movement. Also, on the list of visits, is Little Havana, where the Cuban community are based, and you can even try a day trip to the Everglades if you are feeling adventurous.
What you have above are some fantastic ideas for winter sun breaks, as everyone looks for something slightly different. To get the very best winter sun holiday for you and your loved ones, give us a call on 01604 661100 or fill in a contact form and we'll get back to you shortly.