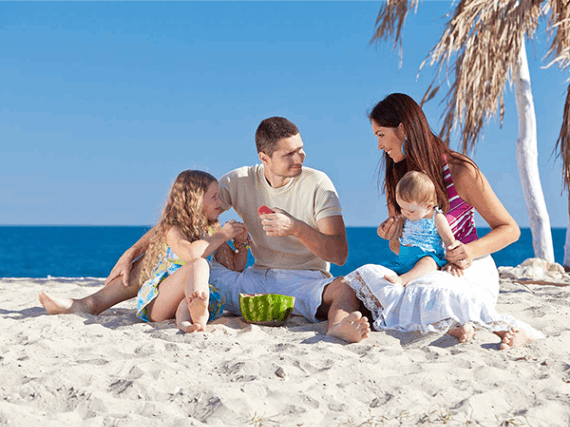 Our 3 Favourite Holiday Deals for Young Families
If you're thinking of a fun holiday for your young family, then water parks, theme park resorts and Disneyland may spring to mind. You know exactly what to expect, and a day full of excitement will at least get the kids (and yourselves) a good night's sleep! However, the challenge many parents face with young families is how to get a holiday for themselves as well as one for the little ones to enjoy.
We have chosen three of our top resorts and villa locations that gives both parents and children a spectacular holiday to remember. These destinations are perfect for valuable family time, but also time out where you can be certain the kids will be safe, occupied and enjoying the holiday just as much as you are!
1. Discover Le Dune, Sardinia
Resort and Spa Le Dune has a secluded setting on Sardinia's north coast, surrounded by sand dunes and juniper woods set for exploration. With a 12,000 square yard Village Fantasia play area, two kids-only pools, a tepee village and helter-skelter, it comes as no surprise that Le Dune is considered one of the best hotels for children in Sardinia. There is also a garden where the kids can pick organic vegetables and gather freshly laid eggs to use in the kids' club cookery classes.
This 4-star resort is set across two floors and blends in well with its local surroundings. Enjoy the choice of six pools, ten delicious restaurants and your stay opposite a five-mile-long beach.
You can find out more about this resort by viewing our deal here.
2. Visit Princesa Yaiza in Playa Blanca, Lanzarote
The Canaries have long been famous for family holidays, and Princesa Yaiza is probably the best there is for holidays with young children.
The resort offers:
385 spacious rooms & suites complete with kids' mini bars
The huge Kikoland Kids Club with pool
Tennis courts
Football school
Amphitheatre and playhouses
There are eight different restaurants, with one dedicated to families, covering Italian, Mexican and buffet style. Or, perhaps take a visit to one of the highest regarded restaurants in Lanzarote, 'Isla de Lobos' featuring a terrace that overlooks the sea. Adults can also relax in the resorts jacuzzi and large spa for when you want your own time and space.
3. Explore Casa San Gabriel, Italy
If you're looking for the perfect setting to spend quality family time, these three stone cottages run by a friendly couple with two young daughters could be the ideal escape. With mesmerising scenery and an idyllic pool, this resort welcomes young families with a collection of toys, books and baby gear. There is also a brilliant kids' play area and a popular weekly pizza night where junior guests get involved, making their own dinner whilst parents enjoy a sociable glass of wine.
There is plenty of opportunities to explore the spectacular Italian countryside with day trips to Arezzo, Assisi, Gubbio and Florence. Or you could relax at your cottage by the pool whilst the kids play and explore the gardens, making friends with the resident alpaca herd.
At Dragonfly Traveller, we have been through our own family holiday adventures, covering all ages of our children growing up. We have been to all the big resorts and theme parks, but have chosen these three specially, as we feel these combine quality family time, memorable engaging experiences and great service!
If you're looking for the perfect holiday for your young family, then let Dragonfly Traveller help you get it right the first time.