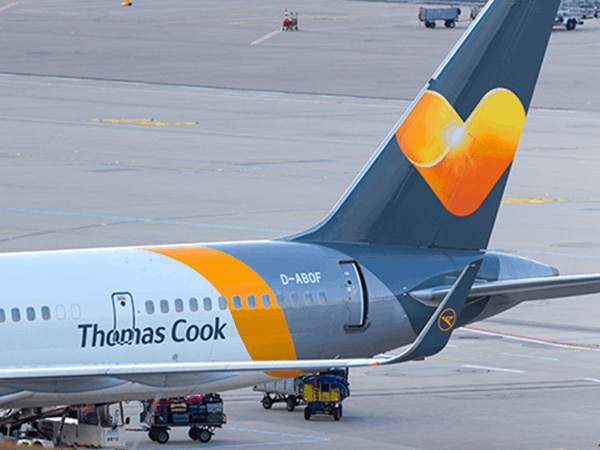 Media Statement From Dragonfly Traveller On The Collapse Of Thomas Cook
Overnight the news broke that tour operator Thomas Cook has gone into administration after rescue talks failed with the government. Thousands of holidaymakers are waking up to the news that their flights and holidays could be affected. It has also triggered the biggest ever peacetime repatriation, aimed at bringing more than 150,000 British holidaymakers home.
Rob Gower, Managing Director at Dragonfly Traveller, has issued the following media statement this morning:
"It is tragic to see the demise of Thomas Cook as it is such an iconic brand that has been trading for 178 years and this will have a massive impact on hundreds of thousands of British holidaymakers, those losing jobs and the travel industry as a whole.
As of this morning, all holidays and flights provided by Thomas Cook have been cancelled and are no longer operating. All Thomas Cook shops have also closed, so customers are advised to visit the Civil Aviation Authority (CAA) website for updates and advice at https://thomascook.caa.co.uk/.
For me, I think there are two key issues that those affected need to be aware of.
The first is for those already abroad with Thomas Cook. Up to 150,000 British Thomas Cook passengers are currently abroad and need bringing home. The CAA and government are working together to fly passengers back to the UK between 23 September 2019 and 6 October 2019 and are providing free flights home. These repatriation flights will only be operating until 6 October 2019. After this date, passengers will have to make their own travel arrangements. Those abroad are advised to visit the CAA website and enter their flight details to find out what arrangements have been put in place for them specifically.
The second is for those who have upcoming holidays or flights booked with Thomas Cook. The good news is customers should be protected and get their money back. The bad news is, it could take a long time. Customers who have booked holidays through Thomas Cook are ATOL protected and if an ATOL protected travel company ceases trading, the scheme protects customers who have booked holidays with the firm. I would also advise anyone who has lost money on airport parking or other holiday-related expenses incurred as a result of the Thomas Cook collapse to keep documentation and receipts of these too, as these will also be reclaimable through the ATOL protection scheme. It is worth mentioning though that this only applies to HOLIDAYS booked through Thomas Cook. Those who have booked Thomas Cook flights only will not necessarily be covered through ATOL. They will need to speak to their own tour operator or try and claim the money back through their bank or credit card provider as they should be protected by the Consumer Rights Act. Failing that, check your travel insurance policy to see if this provides any cover for your flights. Once the repatriation process has been completed, the CAA will let customers know how they can go about claiming their refunds, but the process is likely to take up to two months.
This is a very sad day for the travel industry and my sympathies are with all of those affected, particularly the 22,000 Thomas Cook employees who have lost their jobs – 9,000 of those being here in the UK.
This is a constantly moving situation and I would advise customers to keep checking the CAA website for updates."
Dragonfly Traveller Ltd is part of the Global Travel group of companies and ATOL protected. To find out more, visit www.dragonflytraveller.co.uk.