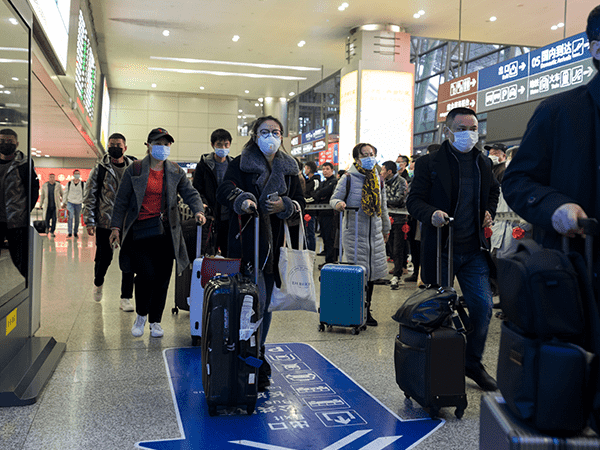 Travelling in turbulent times
Navigating turbulence in the travel industry
Over the last 12 – 18 months, the travel industry has had to contend with the demise of Flybe, Monarch and Thomas Cook, uncertainty around Brexit, flight strikes and now the Coronavirus (COVID-19) pandemic is causing turmoil for travel professionals and travellers.
At the time of writing this, most of the UK is self-isolating at home, many countries across the globe are on lockdown with no flights leaving or arriving, and the Foreign & Commonwealth (FCO) has advised against all non-essential overseas travel for British nationals, initially for a 30-day period starting from Tuesday 17thMarch. This means that many people who booked holidays for this spring or summer don't know if those holidays will be going ahead and are frantically checking their insurance policies to see where they stand and if they will get their money back.
Package holidays 
For the online package holidaymaker, as long as you bought the full package from an ATOL protected supplier, this is probably the safest position to be in. ABTA is in urgent talks with the government to introduce temporary changes to regulations to ensure that customer's money is protected under the current unprecedented circumstances. If your trip has been cancelled because of the change in FCO advice, talk in the first instance to your travel provider to discuss options. Many tour operators are putting their own compensation offers in place which include postponements, credit vouchers or full refunds. If your holiday is imminent and you have decided not to travel, look to postpone your holiday. Don't cancel as this could mean you lose the deposit or more. It also means you have a holiday to look forward to in the future and it will help your travel provider maintain its cash flow through the short-term challenges. If you are not able to postpone, you may be offered a credit voucher rather than a cash refund. If your travel provider has said they will offer a cash refund, be patient with them as they process it. Check the ABTA website for up to date information (https://www.abta.com/news/coronavirus-outbreak).
If you have booked your holiday as separate components
Those who go online and buy their flights, accommodation, excursions, hire car etc separately rather than through a tour operator or travel professional could find themselves in a trickier position. The Consumer Credit Act 1974 protects you on credit card purchases between £100 and £30,000 if the company you bought the product or service from breaks their contract with you. This includes if they go out of business or don't deliver what they have promised. If this is you in the current Coronavirus crisis, firstly check with the providers of your individual components directly and see what they can offer. If they can't help or you do end up out of pocket, contact your credit card company and check the small print in your travel insurance to see if you are covered.
Travel insurance
Many banks and credit card companies offer free travel insurance to their customers. This is great, obviously, but many of us are guilty of not looking at this insurance to see what it actually covers. Two things that you should make sure are in your travel insurance are 'supplier failure' and 'travel disruption cover'. Interestingly, just last week Aviva announced that they are now excluding travel disruption cover from standard travel insurance policies as the risks are too high.
Going forward
Most travellers are guilty of going for the cheaper option when it comes to travel insurance thinking 'it won't happen to me', but chances of travel disruption are not as slim as they used to be. When booking future holidays, look for the policy that covers everything you need it to, don't just go for the cheapest option or the one that comes free with your bank. Read through all of the small print before purchasing.
Also consider timing. Typically, there are two kinds of holidaymaker – the planner and the last-minute deal finder. The best time to book long haul scheduled flights is around 10 – 11 months ahead of the expected return date of the holiday. This is when the airlines publish their flights, so they are at the cheapest. After this, the only way is up. The same principle applies to short haul, low cost airlines. However, they don't tend publish flights as far ahead and they can differ depending on the routes. Usually, when travel companies take holiday bookings that include flights more than a year ahead, they are quoting based on estimated flight prices and sometimes estimated accommodation prices. The only problem with this is that when the flights do get published, the price of your holiday could change as a result.
For the last-minute customer looking for a great deal, this only works if you are very flexible and don't mind where you go, when you go and where you go from. However, remember to check every detail. It may not include everything you want such as airport/hotel transfers, or have you arriving at an airport which is far away from the resort.
There are many risks when booking a holiday in today's climate and these risks are sometimes not worth taking, especially when basing a decision purely on price. Booking with a travel professional saves time. They are experts and have the knowledge and – more importantly – are there to sort things out if they don't go to plan.