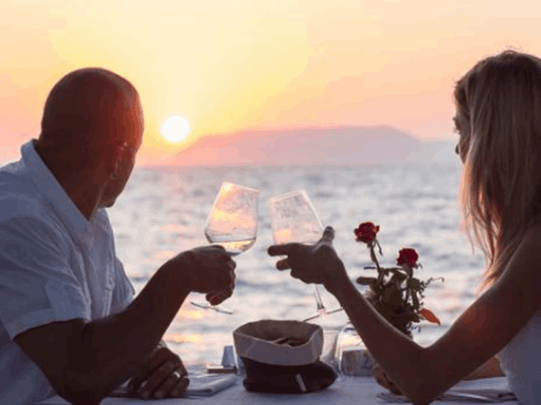 Love Is In The Air – 5 Places to Take Your Partner
Nothing says, "I love you", like a romantic escape with your partner. Most couples will have their own ideas of what a couple's holiday should be like. We are focusing our views on this occasion with "lazy", "relaxation", "luxury" and destinations that are only a short hop away.
We have put together our top 5 places to take your partner, filled with our own tips, tricks and advice from our own travels.
1. Daios Cove Resort & Villas, Crete
If you are searching for privacy, luxury and spectacular views, then Daios Cove will exceed your expectations. From the moment you are collected from the airport in a stylish Mercedes, you begin to feel that something rather special is going to happen on this break and trust us, you will not be disappointed!
This 5-star, luxurious resort features some of the most mesmerizing sea views as well as its own private beach. Guests booking in villas and selected suites can enjoy their own private seawater swimming pool, spacious living areas and marble-lined bathrooms. After a dip in the pool, why not unwind in the Spa for some rejuvenating treatments? Or perhaps, indulge in one of the 6 restaurants, which will truly surpass your expectations. Whatever you choose to do, the icing on the cake for us here is their quality of service. From the pool attendant to restaurant staff and management, you feel warmly welcomed and treated with 5-star assistance. It would be hard not to impress your partner here.
2. Iberostar Grand Hotel El Mirador, Tenerife
Tenerife may not be the first to spring to mind, but the surprising number of upmarket luxury hotels proves there is a lot more to the island than meets the eye. The 5-star Iberostar Grand Hotel El Mirador is set in an exclusive location with stunning sea views and all the luxury you would expect. The magnificent lagoon-sized pool extends almost the full width of the hotel, lapping the terraces of the three bars and restaurants. Why not unwind in the beautifully manicured gardens and experience fine dining in the resorts stylish restaurants?
3. Blue & Green The Lake Spa Resort, Algarve
As one of our personal favourites, Blue & Green The Lake Spa Resort will soon impress you too with its sandy beach pool and floating restaurant. Your room will be of an especially high standard with your own balcony to catch the amazing views of the lakes. You can enjoy great food at the restaurants, including locally caught fresh fish and this resort is a great location for discovering the Algarve.
This is one of the first resorts we've been to in the busy holiday period where everything is catered for without any fuss. You can get your sunbeds and anything you want whenever you want it, to make your romantic break as stress-free as possible.
4. The Asimina Suites Hotel, Paphos
If you are looking for a quiet, relaxing break, then this luxury boutique style hotel is for you. This hotel is situated in a peaceful and tranquil location but is only a short walk away from the Paphos Harbour, with its hustle and bustle of local bars, restaurants and tavernas.
The one-bedroomed suites here are what really makes the difference for your romantic break. The rooms are huge! Featuring floor to ceiling patio doors and a balcony across the lounge and bedroom. You can enjoy the beautiful marble tiled bathroom with twin sinks, and an ultra-comfy king-sized bed, perfect for a great night's sleep. This fantastic resort will really allow you and your partner to unwind in luxury.
There are also plenty of facilities to keep you entertained:
Tennis courts
Outdoor and indoor swimming (with comfortable sunbeds)
Private jetty with steps into the sea
A modern gym with cardio and weight machines
Table tennis
Sauna, steam bath and Elixir spa
5. The Sani Asterias Suites, Halkidiki
We have left this one until last as this is probably our favourite, for those who really want to push the boat out on a romantic short haul break. The Sani Resort in Halkidiki offers guests the very best in luxury, privacy and personal service. Set on a private, white sandy beach, you can relax with full butler service to your lounger, before retiring to your suite with its own private terrace and pool.
The resort offers a wide range of facilities and activities to keep you occupied, including a PADI dive centre, tennis courts and mountain bikes, as well as the luxurious spa for some well-needed pampering treatments. You can also enjoy evening entertainment in the open-air garden theatre, which hosts shows, special events and coverage of international sports.
This level of luxury is in high demand, so you will need to book way in advance to secure your place for the following year.