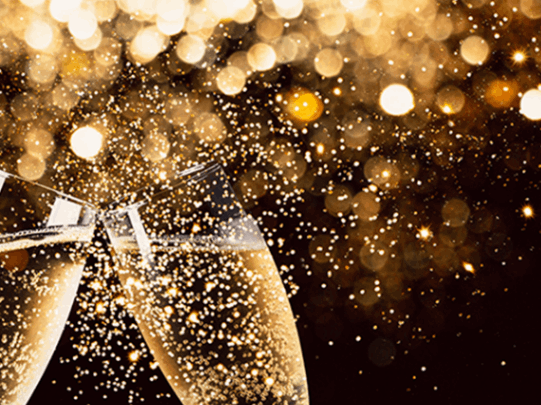 Kick Off the New Year Right: 5 Places to Spend New Year's Eve
What makes New Year's Eve so special?
Is it the chance to welcome resolutions for the new year?
Is it getting together with family and friends?
Whatever it is that makes this time so memorable for you, make sure that you do it in the best possible location!
Take a look at these top 5 destinations to kickstart the new year.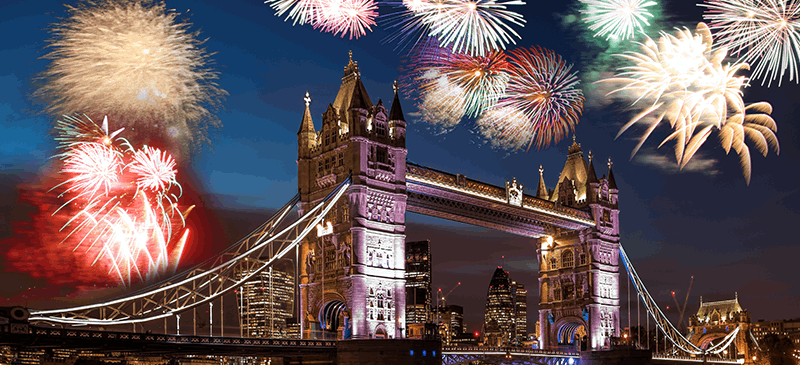 London
The perfect location for you to bring in the new year could be right on your doorstep. If you plan on staying in England for your celebrations, London is the place to be!
The London landscape at night makes for the perfect backdrop to a fantastic fireworks display, it also means that the event can be viewed from various spots around the city. Among others, you can enjoy them in the official staging area, or get a great vantage point from a clipper boat anchored on the River Thames.
But, the fireworks aren't the only good thing about New Year's Eve in London. You can also enjoy some amazing food and drinks, at discounted package prices, in pubs and restaurants like The White Cross and Aqua Nueva (you can even enjoy the midnight firework display from Aqua Nueva's rooftop terrace).
Hotel Recommendation: Hilton Bankside
This designer-inspired hotel comes with custom furnishings in every room, is adjacent to the Tate Modern and offers a highly professional service.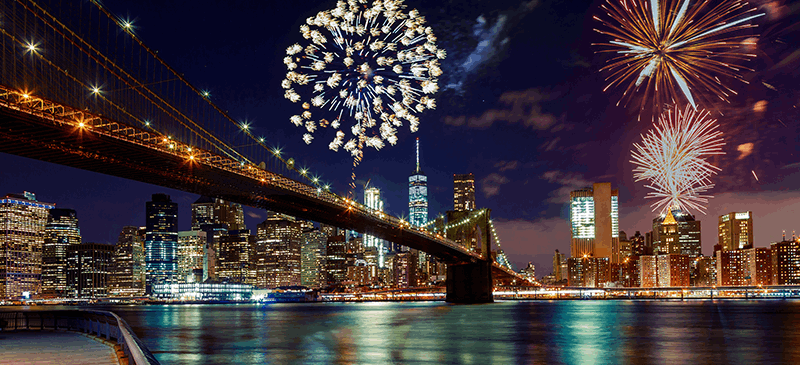 New York 
You may have seen it in classic romantic movies, but nothing beats watching the ball drop in Times Square in person. Making its debut in 1907, the ball has dropped almost every year with an estimated one million people who now come to watch it bring them into the new year.
Times Square isn't the only place that you can enjoy the festivities – fireworks can be seen all across New York City, and places like Prospect Park in Brooklyn have great front seat views!
Whether you are waiting for the firework display, or want to make more of the night, there are some fantastic restaurants all within walking distance from the main event. Gabriel Kreuther, a Michelin-starred spot, serves luxury food, including chestnut agnolotti and aged duck breast. Dishes like poached lobster with baby turnips and tarragon can be found at the Clay Restaurant, a former jazz club.
Hotel Recommendation: Paramount Hotel Times Square
This hotel is one of the most fashionable Midtown Manhattan hotels in New York – it was only just renovated in 2019.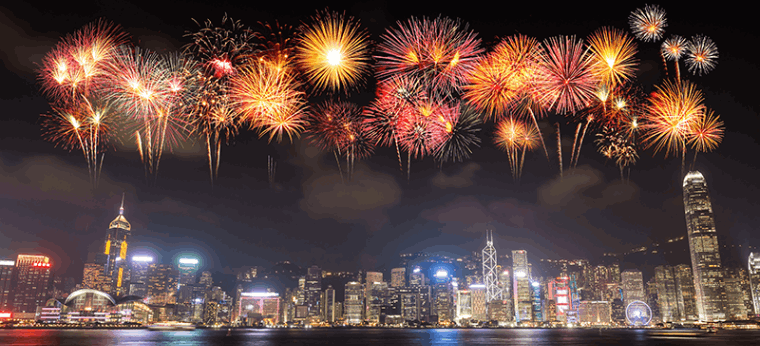 Hong Kong
Hong Kong is known for its flair for the dramatic and their new year celebrations are no different.
Every year the fireworks that dazzle the sky over the Victoria Harbour are released in synchronicity with music. As the red, yellow, green and blue fireworks explode in vibrant colour, you can stand with crowds of other viewers who are all bringing in the new year.
Some of the best vantage points include Tsim Sha Promenade, Ocean Terminal Deck, Golden Bauhinia Square in Wan Chai and Tamar Park in Admiralty. Across the entirety of the harbour where many of these locations can be found, you can also sit and enjoy traditional Hong Kong street food like Dim Sum and Wonton Soup, as well as enjoying a drink in many hotel bars, such as Grand Hyatt Hong Kong and Sheraton Hong Kong Hotel & Towers.
Hotel Recommendation: InterContinental Hong Kong
This hotel is home to an acclaimed Cantonese restaurant and has been awarded five-stars by Forbes Travel.
Sydney 
The Sydney Harbour fireworks are just as magical as those found throughout the world, but, where they differ is in planning. The Sydney City Council plans the firework displays right down to a 'T', including a map displayed on their website featuring all the best vantage points and the rules for each area. For example, many of the locations have an alcohol-free rule, unless purchasing from the vendors themselves.
These maps include information on amazing viewing areas like Sydney's Royal Botanic Gardens, Sydney Harbour National Park and Harbour Islands, and the Sydney Opera House. Each location has a plethora of parties and hoopla's that you can attend, but hurry when booking tickets as they sell out fast!
If you are after a meal as breath-taking as the firework display, why not try ARIA, a seasonal restaurant with an extensive list of wines from around the world; or 360 Bar and Dining, a restaurant in Sydney's tallest structure, with revolving views of the city's skyline.
Hotel Recommendation: Park Hyatt, Sydney
With a masterful dining room, luxury spa and great views of the Sydney Opera House, you could even enjoy the fireworks from your room.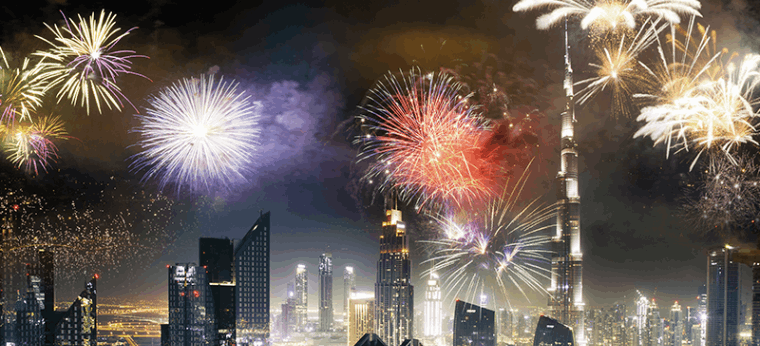 Dubai 
There is a reason that Dubai's firework display is world-famous. The legendary light show begins at exactly midnight and can be seen from miles away.
In the Burj Khalifa, the fireworks actually explode out the side of one of the tallest buildings in Dubai. This display can be seen from Souk Al Bahar, Burj Plaza and The Dubai Fountain. But, firework events can also be found in Palm Jumeirah, Burj Al Arab and Dubai Festival City – so you have a wide choice of where to bring in the new year.
If you want to enjoy some fine dining as a bonus to the magical fireworks, then Souk Al Bahar is the place to be. This upscale dining location houses restaurants such as Karma Kafe and Serafina. I recommend booking a table as far in advance as you can as they run out fast!
Hotel Recommendation: Four Points, Sheraton Sheikh Zayed Road
This hotel offers luxury guest rooms, amazing 360° views and indulgent international restaurants.
Choose one of these destinations and you can make New Year's Eve a night to remember.
Here at Dragonfly Traveller in Northampton, we are experts in the field and will ensure that your New Year's Eve holiday goes off with a bang. Contact us on 01604 661100 or by using our contact form, to plan your next adventure.