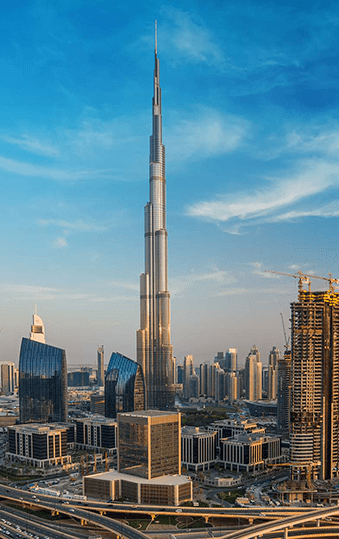 Destinations
Dubai
Dubai is a vibrant and exciting destination. It's a splendour of 5, 6 and even 7* luxurious hotels and is perfect for a city break that offers that little bit extra.
Think of Dubai, and you'll think of Sheiks, yachts and man-made islands built in the shape of palm trees.
It's famous for everything that's the biggest and best, including the world's tallest building, the Burj Khalifa and the world's first 7-star hotel, The Burj Al Arab, elegantly shaped like a sail.
The Burj Al Arab is so exclusive that you can't just go inside for a look… you need to book at least a meal for that privilege! For those who like to shop until they drop, Dubai is home to a range of exclusive, designer stores. We can highly recommend taking a trip to The Gold and Diamond Park as well as the Dubai Mall, which happens to be perfectly situated under the Burj Khalifa. Time your shopping trip to incorporate dinner, when you can sit beneath the tallest building in the world and enjoy the colourful fountain displays as you dine.
If shopping isn't your thing, we can take you to relax on the golf range where you can tee-off in world-class golf resorts! We can ensure that the main aim of your holiday to Dubai is to unwind and enjoy complete relaxation… with the warm waters of the gulf, beautiful sandy beaches and first class accommodation that will ensure you can do so in amazing surroundings.
Burj Khalifa
Named At the Top on the 124th floor, the Burj Khalifa comes with an outdoor observation deck. Here you can enjoy scenic views over Dubai, and truly appreciate how this city rises straight from the desert. The observation deck also features the Behold Telescope, which allows you to view the surrounding landscape in real-time. That really is a sight to behold!
Safa Park
Safa Park is located in the centre of the city and boasts three lakes… the largest of which has a fountain and touring boats. You can also take a stroll around the park and take in the waterfall, bird watch, or just enjoy the green space with a picnic and good company.
Dubai Mall
This is the world's biggest shopping mall and as such is the epiome of heaven for those who love to shop. It has over 1,200 retail outlets and an amazing aquarium, so if you can't find what you are looking for here… you really won't find it anywhere. Get prepared to max out that credit card!
Other attractions
Dubai is also home to amazing water parks, meaning you can choose from Wild Wadi's or Atlantis and spend the day on some of the most gut wrenching water rides such as the Jumeirah Sceirah, or take a more relaxing ride down the lazy river.
We can also recommend taking a trip to the creek, and you must visit Ravi's for dinner, an ex-pat's favourite, perfect for an extremely purse friendly, delicious and filling indian feast! To complete a family visit, we can book you in for a skydive, or ensure you get the chance to swim with dolphins. For the more adventurous, how about exploring the Wadi's by quad bike, or feasting in Bedouin tents under the stars?
Dubai is an easy choice if you're looking for a luxurious break away that can offer excellent accommodation, relaxing spas, exceptional dining and shopping and an array of more adventurous activities! Get in touch today for more information.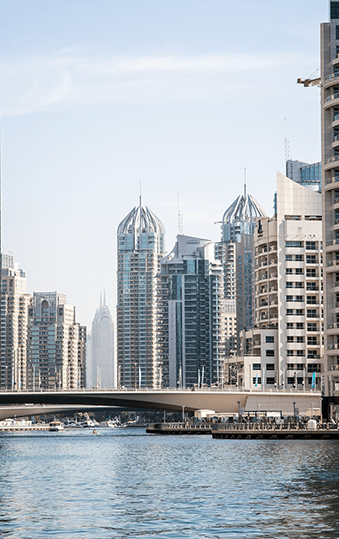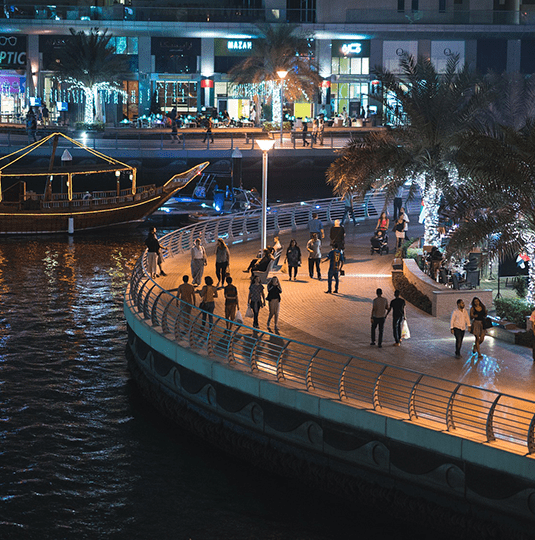 At a Glance
Dubai
Immunisations needed: Confirm primary courses and boosters are up to date.
Advised: Hepatitis A, Diphtheria; Hepatitis B; Tetanus; Typhoid
Languages: Arabic and English
Time difference: GMT +4 hours
Popular activities: Exploring Culture, Dining, Shopping
When to visit: March – May
Accommodation
Dubai
Dubai offers some of the best hotels in the world, as well as luxury private villas to enjoy.