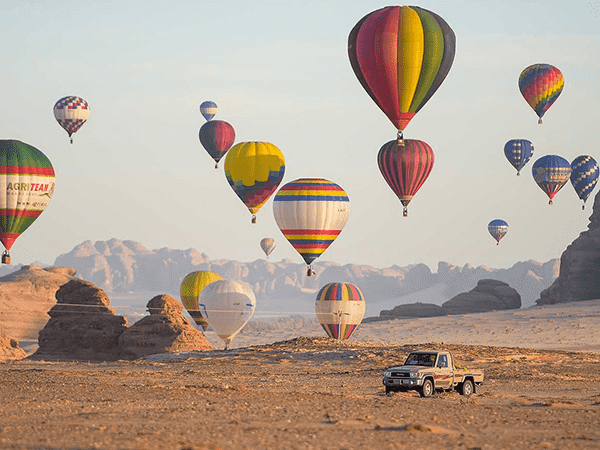 AlUla in Saudi Arabia
What and where is AlUla?
Located 620 miles north of Riyadh in northwest Saudi Arabia, AlUla covers an area almost the size of Wales. It's an area rich in historical, geological and geographical significance, a hidden gem that was once part of the Incense Route.
AlUla is home to not one but four heritage sites – the UNESCO World Heritage Site of Hegra; Dadan, once the capital of the Dadanite and Liyhanite Kingdoms; Jabal Ikmah, known as the 'open-air library'; and AlUla Old Town.
Spread over 8,700 square miles, it offers over 200,000 years of human history, a lush, green, palm-filled oasis, towering sandstone mountains and monumental rock formations, making it an ideal destination for heritage and cultural buffs, for nature lovers and outdoor adventure enthusiasts.
What activities, tours, cultural attractions are there?
You really need at least three nights and four days to experience many of the delights AlUla has to offer. Once the luxury Habitas hotel opens at the end of this month, followed by the Banyan Tree in early 2022, guests are likely to want to spend even longer simply relaxing and soaking up the amazing landscapes and peace of the desert.
Key attractions include iconic Hegra, which boasts more than 110 of the best-preserved tombs of the Nabatean era, from as early as 106 BC, Dadan with its Lion Tombs and incredible landscapes and rock formations such as the sandstone Elephant Rock.
There's also a not-to-be-missed vibrant souk and excellent local cafes and restaurants.
Active guests can immerse themselves in the landscapes on a cycle tour, or join a guided group on one of the many excellent trails such as the the 1,500 metre circular Rock Art Trail, which not only provides stunning views of Hedra but also gives an opportunity to see the rock drawings of several ancient civilisations.
A unique experience is stargazing at Gharameel, 90-minutes north of AlUla Old Town, where the naturally-formed rock pillars and clear star-studded skies make you feel you're in outer-space.
When is the best time to visit AlUla?
AlUla is open year round but perhaps best between October and April when the climate is more temperate and a great time to experience the outdoor activities. Visiting AlUla during one of the festivals, which generally take place from November to April, is a great way to experience the destination.
Events such as Winter at Tantora, AlUla Skies, AlUla Arts and AlUla's Wellness Festival offer curated experiences of art, culture, music, nature, wellness, equestrian, gastronomy and astronomy.