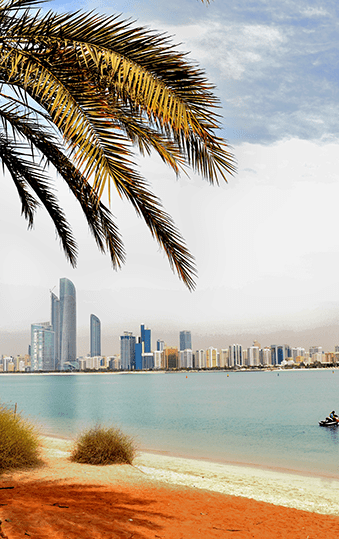 Destinations
Abu Dhabi
Whether you're making your first trip to Abu Dhabi, or you're on a return visit, the capital of the UAE makes a brilliant destination for those that appreciate the very best.
It has something to offer the whole family, from making a splash in a futuristic waterpark, to marvelling at the austere beauty of the highest peak – Jebel Hafeet. In Abu Dhabi you can stay in the only hotel to straddle an F1 track, or dine at the Capital Gate building that leans more than the Tower of Pisa! It's one of those proud destinations that offers the biggest, the best and the most bizarre, ready to be explored!
To begin, we can take you to discover the awe-inspiring Sheikh Zayed Grand Mosque, or if you're looking for something with a bit more of an adrenaline kick, why not jump on the world's fastest roller coaster in the largest indoor theme park?
Next we can take a stroll in the relaxing Al Ain Oasis, or feed the animals in the emirate's engaging zoos.
While in Abu Dhabi, don't forget to get on the water! Sitting off the mainland on it's own island in the Persian Gulf, Abu Dhabi is the perfect spot to enjoy a huge variety of watersports, from wake-boarding to surfing and parasailing – or we hire you your very own jet ski! Perhaps you'd prefer to take a cruise in a traditional pearling boat, or even kayak through the natural mangrove forests? And of course, for those that love to explore beneath the waves, it's perfect for diving and snorkelling too.
For a 360˚ entertainment experience we can take you to Yas Island, where you can burn rubber at Yas Marina Circuit – home to the annual Formula 1 Etihad Airways Abu Dhabi Grand Prix. Here you can have a coffee or stay at the iconic Yas Viceroy, as well as taking a ride the world's fastest roller coaster at Ferrari World Abu Dhabi. You'll also find Yas Waterworld, or you could choose to play Arabia's only links course and then relax on a stunning white sandy beach.
Shopping is something of a national pastime in Abu Dhabi, perhaps because it's so diverse and tax-free! Treat yourself to anything and everything, from luxurious and ultra-modern malls with the latest brands, to small, souk-like shops where you can buy traditional perfumes, handicrafts, spices and carpets. There's very little you can't buy in Abu Dhabi, and when customer service is second to none it's very difficult to resist purchasing a memento or two to take home.
To fully immerse yourself into their lifestyle, we can take you to The Collection at The St Regis, Saadiyat Island Resort where you can enjoy high-end shops, excellent restaurants and cafés – all within a Mediterranean-style 'village'. Alternatively, we can visit the Eastern Mangroves Promenade for a mix of restaurants, health & beauty and leisure venues, with an arch-fronted open pedestrian zone and stunning mangroves-view terraces. For a more-community orientated experience, we can take the whole family to Al Raha Beach Plazas where you can shop, dine or relax on the promenade with stunning views out onto the Arabian Gulf.
If you're interested in culture and heritage, we can catch a cab to the Heritage Village on the Corniche Breakwater, and step back in time to a traditional desert lifestyle. Here we can bargain with souvenir sellers and watch the local craftsmen at work, producing beautiful pottery, weaving and metal work.
For a truly diverse and luxurious adventure, Abu Dhabi is the perfect destination. Begin your journey today by contacting your Dragonfly Traveller P.A. for more information.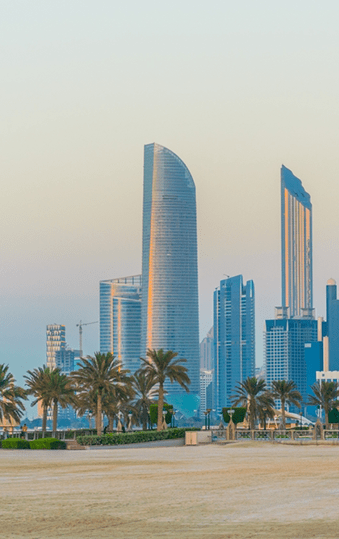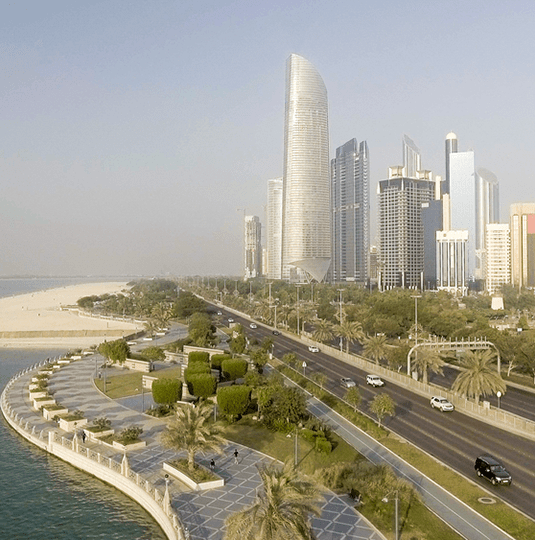 At a Glance
Abu Dhabi
Immunisations needed: Confirm primary courses and boosters are up to date.
Advised: Hepatitis A, Diphtheria; Hepatitis B; Tetanus; Typhoid.
Time difference: GMT +4 hours
Popular activities: Exploring Culture, Hiking, Dining, Shopping
When to visit: March – May
Accommodation
Abu Dhabi
Abu Dhabi benefits from a wide range accommodation which are suitable for all travelling types.